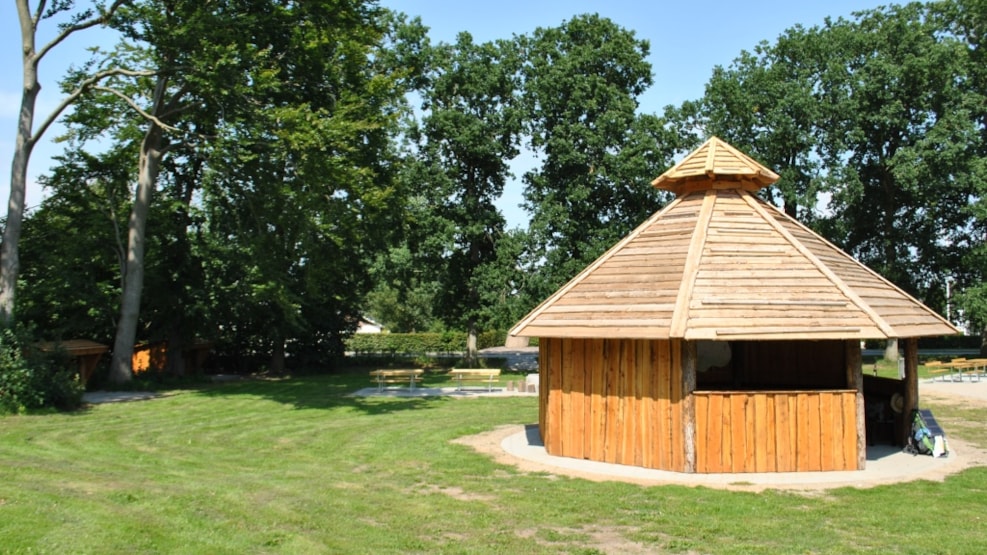 Vedsted shelter - The green corner
Shelter site in Vedsted with fire cabin, access to bathing facilities and a short distance to shopping and a lake for swimming "Vedsted Badesø".
Where Tøndervej and Skovbyvej meet in Vedsted you will find the Green Corner. A Common Park in the middle of the city for citizens and guests. Surrounded by tall trees there are two shelters with access to tables, benches and a fireplace. 

In the cottage near the campfire you will find maps and information boards about Vedsted and the surrounding area. A region which, in a concentrated area, embraces the diversity of the South Jutland nature and culture in a very distinctive and varied landscape that is shaped by the ice from the last ice age. Large trays of deep lakes to the east and flat heaths and marshes to the west. In the midst of these natural beauties lies Vedsted, an ancient/ historical site that tells the tale of people who for centuries, even millennia, utilized the diversity of the landscape and nature as a hub between east and west and north and south. 

Water and toilet: 50 meters Fælleshuset
Shopping: 100 meters LetKøb, Vedsted
Swimming: 300m Vedsted Lake
Reservation is not possible, accommodation is free
Destination Sønderjylland
VisitSønderjylland © 2023