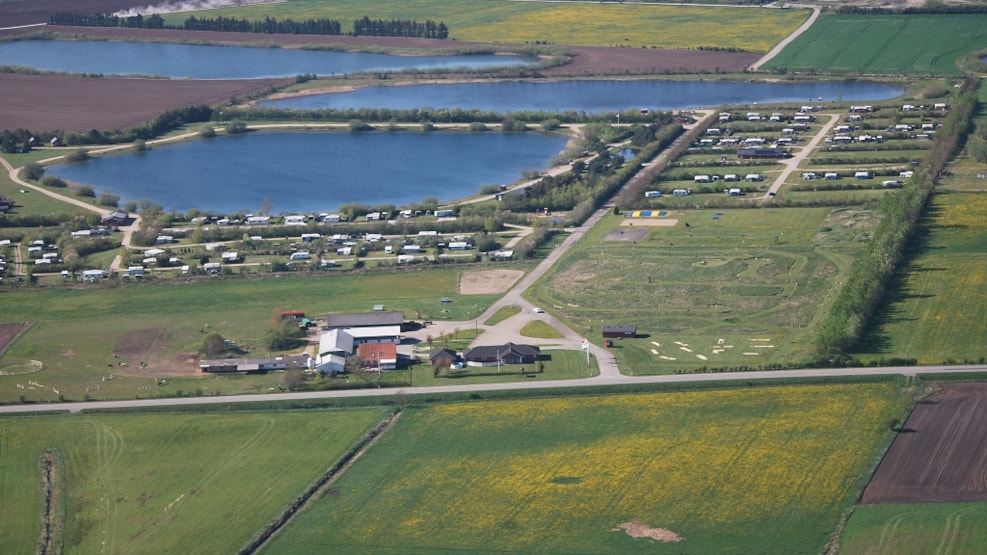 Uge Lystfiskeri Hytter og Camping
Try Put and take in one of Uge Lystfiskeri Hytter og Camping's three lakes. 
The lakes are open for fishing throughout the year and throughout the day. Outside reception hours it is possible for self-service, by paying in the box at the reception. 

Fish in the lake
We have 3 fishing lakes of approx. 14 acres + a small lake for children.
We daily release trouts from 800 grams and upwards. In addition, we annually put out eels and carps.  The exposed clams keep the good water quality.

Kids lake.
The kids lake is set to draw fish out as needed.
Up to 1kg. in size. The fish supplied by RENS DAMBRUG.

Facilities.
2 cleaning tables with running water where the fish must be cleaned.
Only fish caught in our facilities can be cleaned here.
The caught fish can be frozen either in huts or for more enquiry ask at the reception. There can be driven to and park around the lakes. Stay over night may only happen at the campsite. Around the lakes there are tables and benches. It is possible barbecuing by the lakes. Fishing rods can be hired at the reception. Max speed is 20km.

Night fishing.
There may be fished day and night with ticket or buying "fiskebon" at the reception. Outside of these hours pay in the box at the reception.
Fishing without a valid fiskebon incur a fine of DKK 400,-.

Rental of a lake.
Groups of min. 20 people can rent a Lake.

Cabin Lake.
Cabin Lake is the largest of our lakes, it can as the name suggests viewed directly from our cabins.
The lake is approx. 5 ha. and approx. 14 m deep, which can be reached all around by car.
Cabin Lake can not be hired.

Willow Lake.
Willow lake is fairly closed and is very natural, with shrubs and reeds.
It is not possible to drive to the Lake. The Lake is approx. 5 ha. and approx. 12 m deep.

Bathing lake.
The bathing lake is the most open lake. One part of the lake is reserved for bathers.
It is possible to drive to a part of the lake.
The lake is approximately 4 hectares and approx. 12 m deep.

Kids lake.
The kids lake is for children up to age 12.
Do not fish with flash, it could damage the film lies in the bottom.
Kids lake can not be hired.

Rules and Ethics.
Fishing without a fish ticket or when fishing with more rods than you have paid for, will release a fine of:
DKK 400.00. or € 55.00.
By repetition leads to exclusion.

Angling ethics.
Fish are living creatures and must be treated like that.
The fish has to be killed immediately after they landed.
Fish you don`t want to keep, has to be exposed again in gentle ways.
Do not fish too close to others, be considerate when thrown.
Dogs must be leashed.
Put waste in the established waste racks located near the lakes, do not leave any waste, it can be a danger to both humans and animals.
Destination Sønderjylland
VisitSønderjylland © 2023