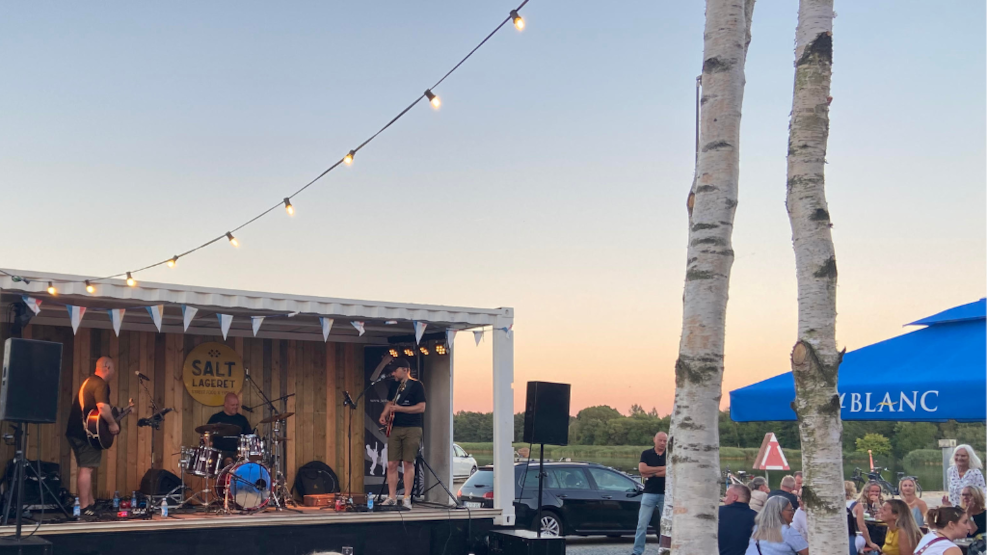 Saltlageret Street Food
Stop by Street Food at Haderslev Harbor!
At Haderslev Harbor, you will find the Saltlageret Streetfood & Events.
At Saltlageret Streetfood & Events, you can settle down and have a good time with your family and friends.

You can experience food from food stalls that serve something for every taste, events, and much more.
Taste Mexican pancakes, salad bowls, pita bread with delicious fillings, or fish and chips.

The ice cream parlor is filled with delicious products from Rani Isbar. You can taste homemade Italian gelato.

At Saltlageret, you will find beer taps filled with ice-cold frothy beer and specialty beers, as well as a complete wine and cocktail menu.
If you only want to drink with a little or no alcohol, they also have a wide selection of that.

From the stages inside and outside, there will be live music regularly so you can get into the right summer mood.
In the year 2023, a series of events will take place, such as live music, drink and wine tastings, comedy, and bingo.
Several of these events have been organized by Saltlageret in collaboration with local businesses.
See upcoming events here: www.saltlageret.dk/events/
Opening hours:
Wednesday:
Bar: 5:00 PM - 10:00 PM
Food stalls: 5:00 PM - 8:30 PM
Thursday:
Bar: 5:00 PM - 10:00 PM
Food stalls: 5:00 PM - 8:30 PM
Friday:
Bar: 5:00 PM - 11:00 PM
Food stalls: 5:00 PM - 8:30 PM
Saturday:
Bar: 1:00 PM - 11:00 PM
Food stalls: 1:00 PM - 8:30 PM
Sunday:
Bar: 1:00 PM - 5:00 PM
Food stalls: 1:00 PM - 5:00 PM
Ice cream house: Thursday - Sunday: 2:00 PM - 8:00 PM
Adress: Ved havnen 26, 6100 Haderslev
Destination Sønderjylland
VisitSønderjylland © 2023