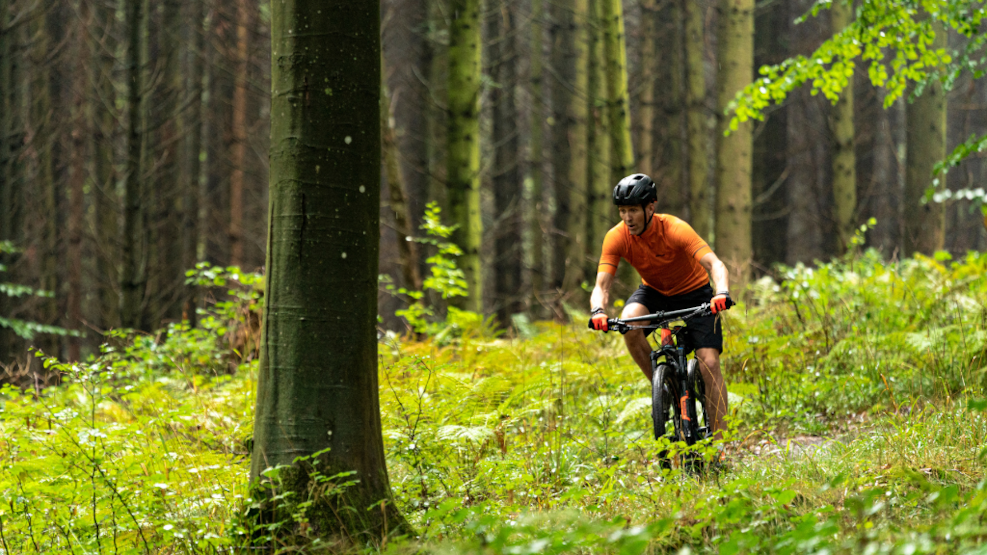 The Royal Mound Trail
The Royal Mound Trail (kongehøjsporet) is a mountain bike trail winding through approximately 12 km of hilly terrain in the forests around Aabenraa.
Is the trail for everyone? Yes!
The Royal Mound Trail (Kongehøjsporet) is one of the first mountain bike trails in and around Aabenraa. Here, you'll find challenges even for the most seasoned mountain biker. The trail primarily runs through Hjelm Forest and around the Royal Mound.
On the route, you'll encounter a wide range of long ascents, technically challenging descents, chicken runs, jumps, and elevation changes that make the Royal Mound Trail both diverse and enjoyable to ride. The trail features plenty of switchback turns, making full use of the scenic area. Moreover, the trail has a good flow that allows for gaining speed. At the parking lot by the start of the Royal Mound Trail on Gamle Tøndervej 14, you'll also find a small balance and hop/drop technique course.
The trail is clearly marked with blue and red arrows as well as signs indicating difficult descents and drops ahead.
The trail is named after Kongehøj or the King's Mound in Hjelm Forest. According to the legend of the Dannebrog, this was the place where Valdemar the Victorious displayed the Danish flag after the Estonian campaign in 1219.
Highest point: 140 m.
Lowest Point: 140 m. 
Destination Sønderjylland
VisitSønderjylland © 2023