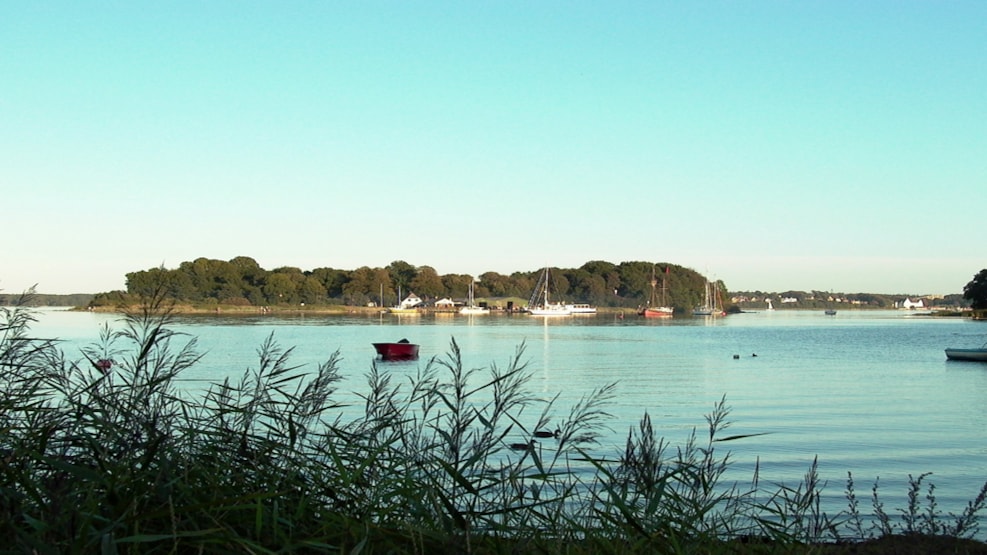 Okseøerne
Okseøerne - the beautiful Islands in Flensburg Fjord
The Ox-Islands (Okseøerne) are two islands placed in the middle of Flensborg Fjord. They were first listed in 1231 in the land register of king Valdemar as "oxenör minor et major".
In 1564 duke Hans den Yngre received the islands together with the lands of Rude Kloster (Glücksburg). The first person to be mentioned living on the island was a man named Claus in the late 16th century. The next person we know of, in 1664, is presumably a great-grandchild of Claus who was also called Claus.
Small-Ox-Island (Lille Okseø):
The island was bought by Copenhagen's Teachers Union in 1963. The Island is not accessible for the public.
Big-Ox-Island (Store Okseø):
Up until the storm tide in 1872 the inhabitants of the island made a living from agriculture, fishing and boatbuilding. The island has had several owners. In 1845 a ship's carpenter called Lorenz Isaack from Strandrød near Rinkenæs bought the island. Today it is owned by the state and maintained by the Nature Agency.
It is possible to spend the night on Store Okseø. In 2020 four shelters and a compost toilet was build. The shelter can be booked here: Skarven, Mågen, Spurven, Mejsen. Please note that the booking page is only available in Danish. There are plans of expanding the area in the future with a campsite for tents.
Make sure to bring all necessities yourself, such as water. And remember to bring your litter with you when you leave the island.
If you wish to visit Store Okseø you can either arrange the transport yourself.
Destination Sønderjylland
VisitSønderjylland © 2023