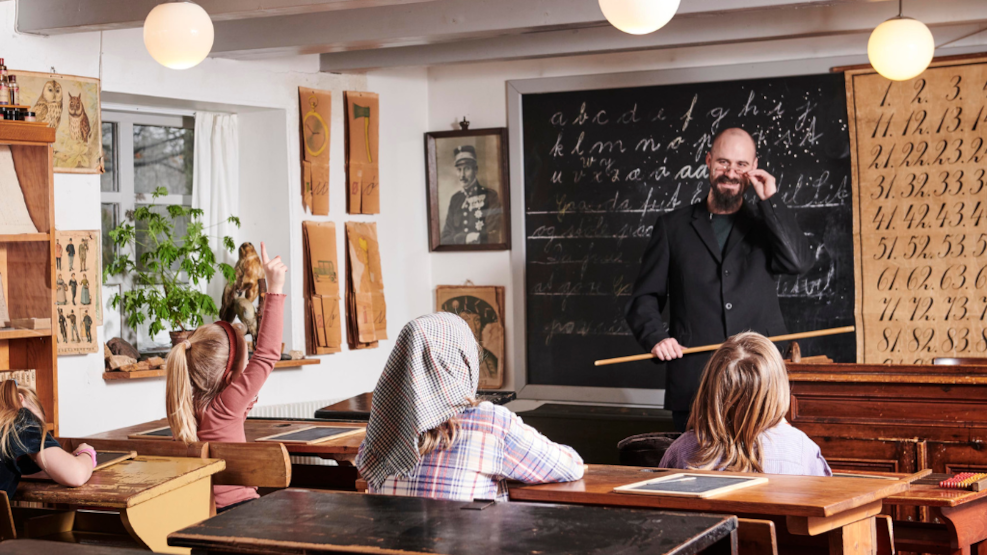 Museum Give
Visit the museum, which takes you on a time travel through the 3 exhibitions; The heath farmers farm, The street of commerce and craftsmanship and the Village School. The museum is an attractive destination for families with children. In addition to the museum's wonderful exhibitions and ongoing child-friendly activities both inside and outside, you can enjoy a cup of coffee and cake or an ice cream in the museum's café and let the children play outside in the apple grove or on the nearby forest playground.
The museum's exhibitions tell about the time when the heath dominated the western part of the municipality of Vejle - a time when people survived on the poor lands with hard work and poor living conditions.
Afterwards, you can experience the flourishing station town that made its way into the area. Village life changed in step with the cultivation of the heath, and with the development came the booming industry and population growth.
In the Village School you can experience a classroom as it looked in the countryside at the beginning of the 20th century. The time when all the students sat together in one room and only had a single teacher.
The museum's permanent exhibitions include "The Heathland Farm", "Trade and Crafts", "The Old Classroom", "Textiles and Handicrafts" and "The Niels Kjeldsen Hall". In "The Historic Kitchen" you can experience a wood-fired stove and taste the freshly baked waffles made on the stove.

At the Give-Egnens Museum you can roam freely on the farmland, through the medical herb garden, the kitchen garden, the apple grove and the museum forest, where there is a lovely forest playground with a campfire site.
Throughout the year, various activities and events are held, including lectures, winter and autumn holiday activities, a children's agricultural show and Christmas activities.
See opening hours and further information at www.gem.dk or on our Facebook or Instagram pages.
Destination Sønderjylland
VisitSønderjylland © 2023