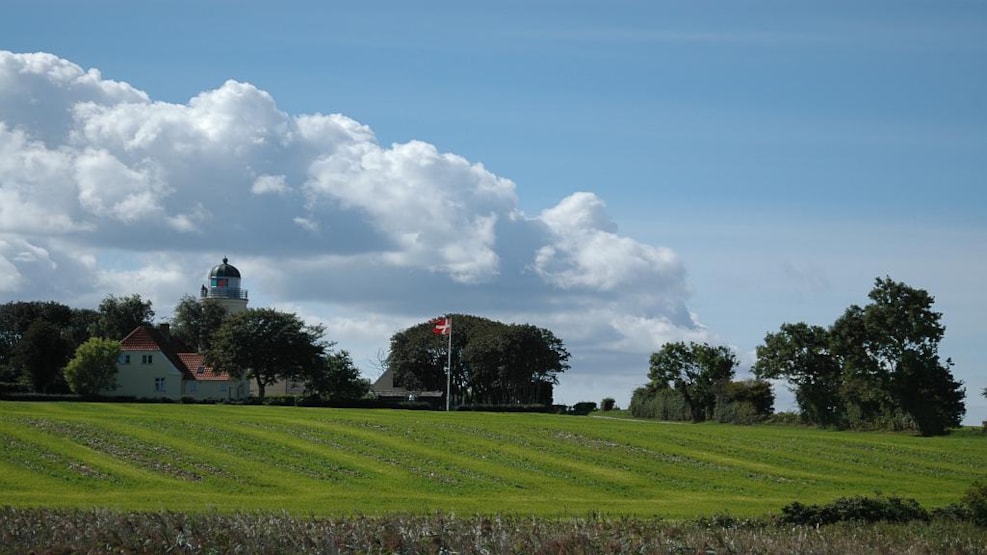 Kegnæs Fyr
The storm surge on 20 October 2023, has caused significant damage to the coastal cliff. The area is closed due to the ongoing risk of landslides - see map!
The lighthouse Kegnæs Fyr dominates the skyline by the dam leading to the Kegnæs peninsula. Climb to the top and enjoy the view to Broager, Germany and the islands Ærø and Langeland.
The first lighthouse at Kegnæs was built in 1845 and is the only one in the area that was established before the area came under German rule in 1864.
The original lighthouse is 9 metres tall and square. The lighthouse is built in bricks as a part of the lighthouse keeper house and has a lens device. 1854 the source of light is mentioned as being oil and the lighthouse has a focus height of 23 metres.
1896 the lighthouse as we know it today is built. The lighthouse, built in bricks, is 18 metres tall round and has a focus height of 32 metres. The light source is not mentioned, we can only presume it still is oil. The original lighthouse is no longer of use and torn down.
From 1920 to 1947 the light source is a petroleum burner which since than is replaced by electricity and an incandescent bulb. Sector character: Oc WRG 5s.
During WW2 Denmark is occupied by Germany form 1940-45 and Kegnæs Lighthouse is one of the places of special interest. German soldiers, who only light it up when German ships is to pass, guard the lighthouse.
Today Kegnæs Lighthouse and the surrounding building is own by Sønderborg Municipality. The lighthouse is restored into a small museum with showcases of the lighthouses history and when the weather is not to misty or windy you can climb up within the opening hours and enjoy the 360° view – free of charge!
The surrounding buildings has been restored into a centre for the 400 war veterans living in the area of Sønderborg. A veteran coordinator is connected to the centre, which helps the former soldiers, who has been abroad, to mend the scars on body and soul.
Access to Kegnæs Lighthouse:
Children under 12 years must be accompanied by an adult and there is no access in case of fog or storm.
Destination Sønderjylland
VisitSønderjylland © 2023