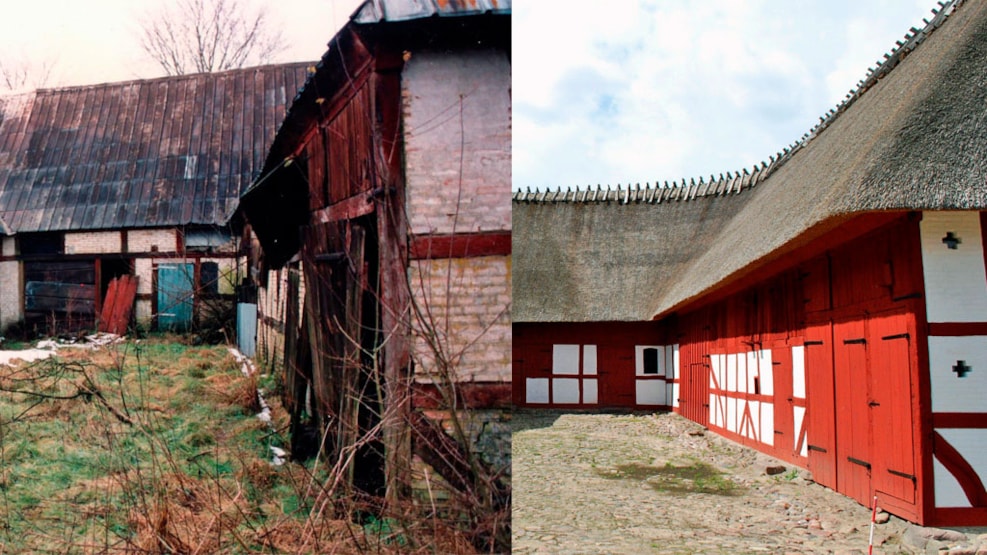 Jollmands Gaard
A unique, cultural-historical relic. One of the last "hook farms" in Denmark and the oldest farm in the village of Holm at the island of Als.
Jollmands Gaard is a unique cultural-historical relic. Where the half-timbered buildings today appear, as when they were built in the 17th century.
It is a so-called "hook farm" - a special building style, which is only known from South Schleswig and Southern Jutland between Aabenraa in the north and Dannevirke in the south. The farmhouse is built in extension of the stables and the swing of the barns forms a hook. What is special is not only the design of the farm, but also that the barns are built in 3-panel half-timbering, against the usual 2-panels.
The gable of the farmhouse has a blinded doorway, which has led into the fine living room or e´piesel, as it is called in the local dialect. It is conceivable that in its time it functioned as a death door, as in the old days it was customary to prepare and watch over the dead in e´piesel. When the dead were to be carried out, it took place, with the feet first, through this particular door. A dead door only had a handle from the inside and since it was not used for daily use, the dead could not find their way into the house and spook.
The last owner of the farm was named Peter Petersen Jollmand and thanks to his own and his father's lack of interest and ability for agriculture, we have today this magnificent example of peasant culture at island Als. They were both more bookishly interested and this has saved the farm buildings from being demolished, as has happened in many other places.
After the father's death in 1922, the farm is carefully measured and drawn up by the National Museum, they want to take over and move the farm to the Open Air Museum in Brede. It does not turn out as planned, but the drawings are found and used in connection with the extensive renovation of the farm itself from 2002 to 2011.
In the following years until 2018, the detached houses have been renovated and rebuilt, so today it is possible to present a hometown museum, where local enthusiasts show and tell about the farm's own history and not least about the thorough restoration, which they themselves have had a large share in.
For opening hours and prices - see the Jollmands Gaard Museum.
Destination Sønderjylland
VisitSønderjylland © 2023