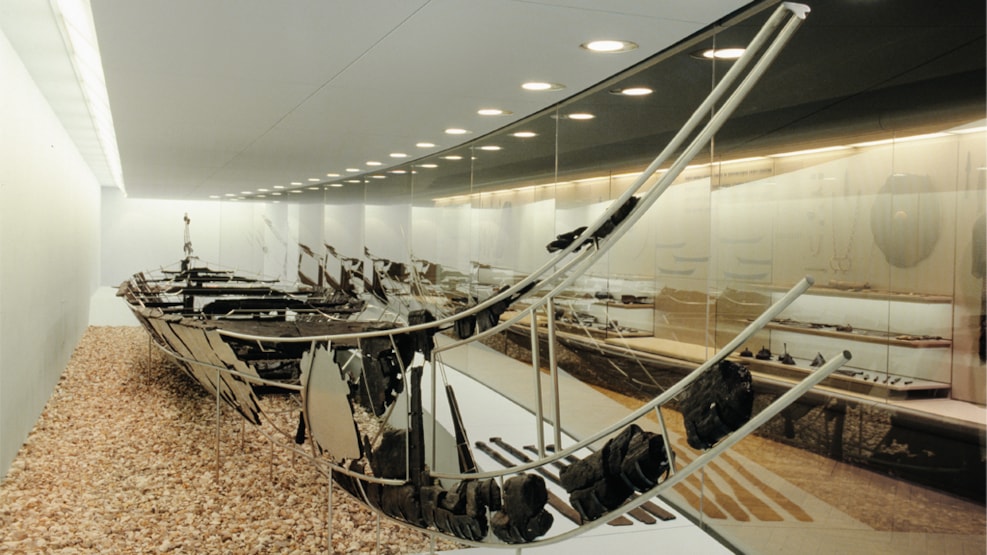 The Hjortspring boat
The Hjortspring Boat – Scandinavia's oldest find of sacrificed weapons is at the National Museum in Copenhagen, but the bog in which it was found is on the island of Als.
Hjortspring Bog 1880:
Boat planks and weapon parts are discovered during peat digging. More than 30 years goes by before the discovery reaches Jens Raben´s ears (founder of the museum at Sønderborg Castle), this is said to have happened during WW1 (1914-18). Jens Raben keeps this knowledge within and the find is not reported to the National Museum in Copenhagen until after the Reunion in1920. Doing so Jens Raben secures one of the biggest maritime prehistoric findings in Danish hands.
Hjortspring Bog 1921-22:
The bog is excavated under skilled supervision of Gustav Rosenberg, conservator at the national museum. The boat being severely damaged by the digging for peat means the work has to be done very carefully. Radiocarbon dating dates the boat to approx. 350 B.C. it is the oldest plank built boat ever found in Northern Europe.
The find is send to the National Museum in Copenhagen, where it is exhibited and can be seen today. Hjortspring Bog lies unspoilt in private fields
Village Holm 1994-99:
The guild "Hjortspringbådens Laug", founded 1991, built a 1:1 replica of the Hjortspring Boat, this replica is lounged and named Tilia Alsie in 1999.