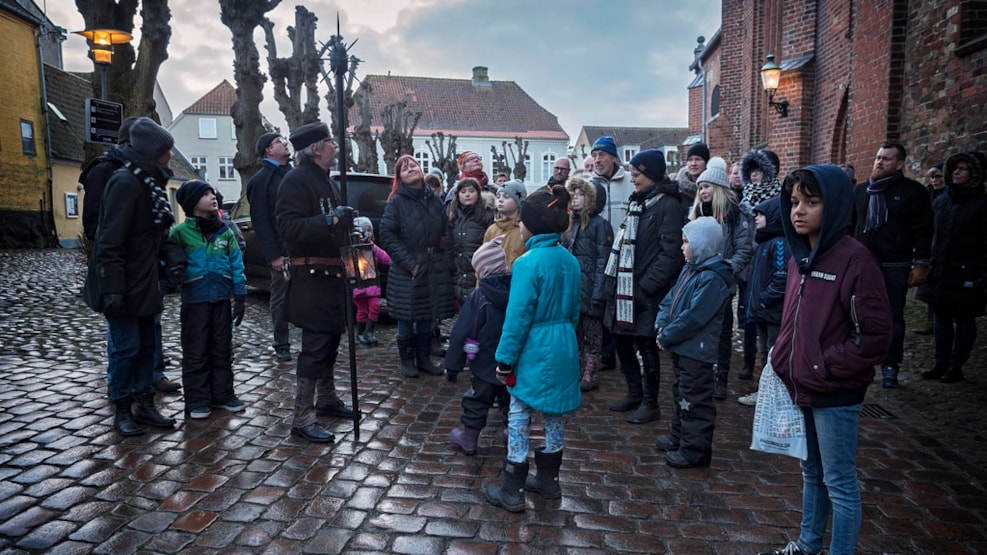 Haderslev Night Watchmen's Museum
History comes alive at Denmark's first Night Watchmen's museum.
On selected dates you can get a special experience in Haderslev. At Højgade 6, in the basement of the city's old police station there is a little museum where you can discover the story of Haderslev Night Watchmen. In the exhibition there are various props that tell the history of a Night Watchman's life, and you can see some of the tools that have been used to torture and mutilated prisoners over time.  
During the 13th century various night watch guilds emerged in many Danish towns. They were meant to upkeep peace and order in the streets of the city at night, as well as to extinguish fires. From 1550, first Copenhagen, and then the towns Helsingør, Kolding, Ribe and Haderslev and more, had actual Night Watchmen, to secure peace and quiet in the dark streets.
Haderslev Merchant Town's Night Watchmen's Guild was resurrected in 2004. The costumes and equipment are faithful copies of the Night Watchmen from the 1700s, as they would have looked in Haderslev and the Dukedoms.  
You can experience the night watchmen in Haderslev, on their evening tour through the old streets of the city every Tuesday and Thursday (week 26-36). The night watchmen walks start in front of the Cathedral at 8.30pm and the entire tour takes about 1 hour.
Destination Sønderjylland
VisitSønderjylland © 2023