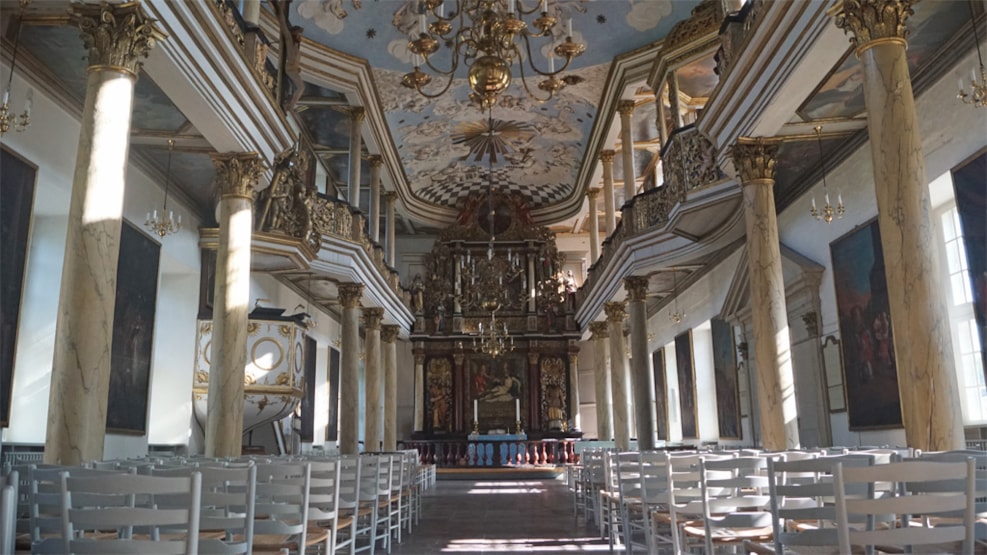 Graasten Palace Church
A beautiful princely room from the 18th century, with beautiful paintings and a sumptuous stucco ceiling with doomsday scenarios.
The palace church is the only building remaining from the original baroque palace after the 1757 fire. The church was built in 1699 and is built like the Jesuit Church in Antwerp.
In 2018 the antependium stitched in 1943 by Queen Ingrid was replaced with a new one. Queen Margrethe II has donated an impressive peace of handcraft to Graasten Palace Church. The new antependium, a colourful masterpiece of more than 250 work hours, can be admired during the official opening hours of the palace church.
In 2023 the palace church is open for guests as follows
1 April - 31 October (subject to the royal family's summer residence, as well as the closing days in connection with concerts etc.)
Free entrance: Saturdays from 10 am-noon, Sundays from 2-4 pm and Mondays from noon - 2 pm.
NB. From 10 July to 16 August as well as Sunday 3 september the Palace Church is closed for visitors. 
Dogs are not permitted in the church except from guide and service dogs.
Organized tours in Graasten Castle Church
It is possible to book a visit to Graasten Castle Church with a group as a tour agent or in connection with a tour / storytelling with our guides. By appointment, a visit is possible during the following periods: Monday between 10 am - 6 pm. Wednesday, Thursday and Saturday btween 10 am - noon and Sunday between 2 - 4 pm. If interested, contact Sønderborg Tourist Office, tel +45 74423555 or email info@visitsonderborg.com to hear more about the price and arrange a time.
When the royals are in residence
When the royal family stays at the palace, the Palace Church is only open to the public in connection with services, evening singing and church concerts.
For information about the royals' stay read more under the related product "Graasten Palace"
Destination Sønderjylland
VisitSønderjylland © 2023