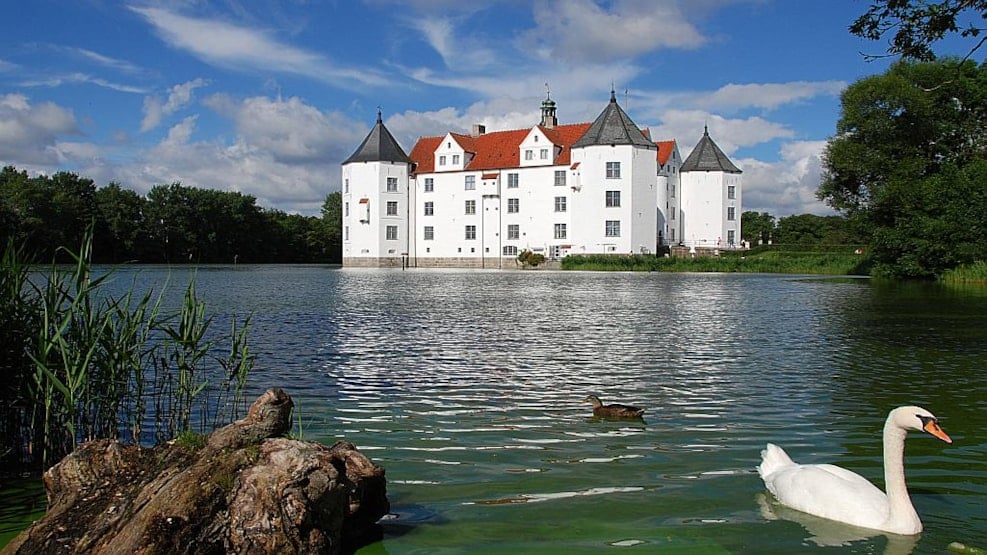 Glücksburg Castle - Germany
The water castle, built by Duke Hans the Younger - the progenitor of the royal family in Denmark
In 1580, Duke Hans the Younger inherited large landed properties and the former Ryd Abbey from his uncle Hans the Older, however he is in need of a befitting accommodation on this side of the inlet Flensborg Fjord.
Hans the Younger gets the rest of the abbey removed and during the years 1583 - 87, a summer castle is built on the site, reusing some of the precious building materials from the abbey.
October 9 1622 Duke Hans the Younger dies during a stay at Glücksburg Castle. Another death at the castle within a noble house is Frederik the Seventh, who passes in the age of 55 on November 15 1863 - a few month later the War 1864 brakes out.
The beautiful white castle is a 3 storeyed square building with a tower in each corner. The castle is surrounded by an artificial lake. The large halls have vaulted ceilings and the castle is fitted with some of the most modern facilities at the time - garderobes. The garderobes are small outside bays with a toilet, discarding in the moat - where they also kept their fish!
The castle chapel is situated in one of the wings and was only used by the ducal family and their court. Later the chapel was used as a city church and today it is possible to get married in the chapel by appointment with the museum at Glücksburg Castle.
For more information and history - visit the website of the castle museum.
Glücksburg Castle
Großestr. 1
24960 Glücksburg
Germany
Destination Sønderjylland
VisitSønderjylland © 2023