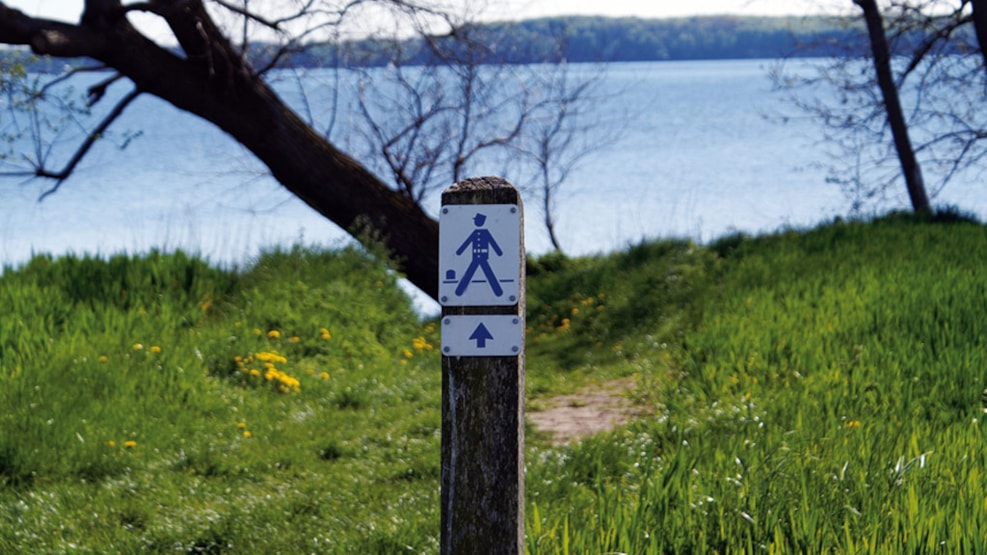 The Gendarme Path
European Quality Trail with certificate from LQT Best of Europe. 84 kilometres of hiking alongside the waters edge, fields and through forests.
The storm surge on 20 October 2023, has caused some damage to the path, and parts of it are closed due to the ongoing risk of landslides - see map!
A little about Denmark's first LQT hiking trail
The Gendarme Path or Gendarmstien in Danish is named for the former guards who patrolled the border between Denmark and Germany for many years, and monitored shipping along the coast. The path was patrolled on foot, and each guard had a designated area. The route was comprised of some existing paths to which new extensions across private property were added to complete the present Gendarme Path.

The border guards patrolled the present border from Reunification in 1920 until 1958. The area is now under police jurisdiction.
In 2015, the stages from Padborg to Høruphav were certified European Quality Hiking Trail as the first in Denmark.
In the autumn of 2016, the path was extended from Høruphav to Skovby, and the entire path achieved the LQT certification in 2018.
LQT stands for Leading Quality Trail, which is a certification that the hiking trail has met a wide range of requirements for, among other things, signage, habitats, culture and historical experiences and more - for more information follow this link.
It is now possible to follow the path from Padborg to Skovby or vice versa, as it is marked in both directions - a wonderful nature experience of approx. 84 km.
Plan your trip from home
Visit the website of Gendarmstien, where you will find a lot of good information, such as rules for traffic, accommodation and providers of packages with luggage transport and much, much more.
On the website's interactive map, you can choose many entries, such as accommodation, kilometres, toilets and taps and more.
If you need a physical card, this can be ordered against payment of postage, from the same site which sells the Hiking Guidebook. Shipping takes place with PostNord and can take 8-14 days.
For Gendarmstien there is also a Hiking Guidebook, which can be purchased online - follow the booking link.
Destination Sønderjylland
VisitSønderjylland © 2023