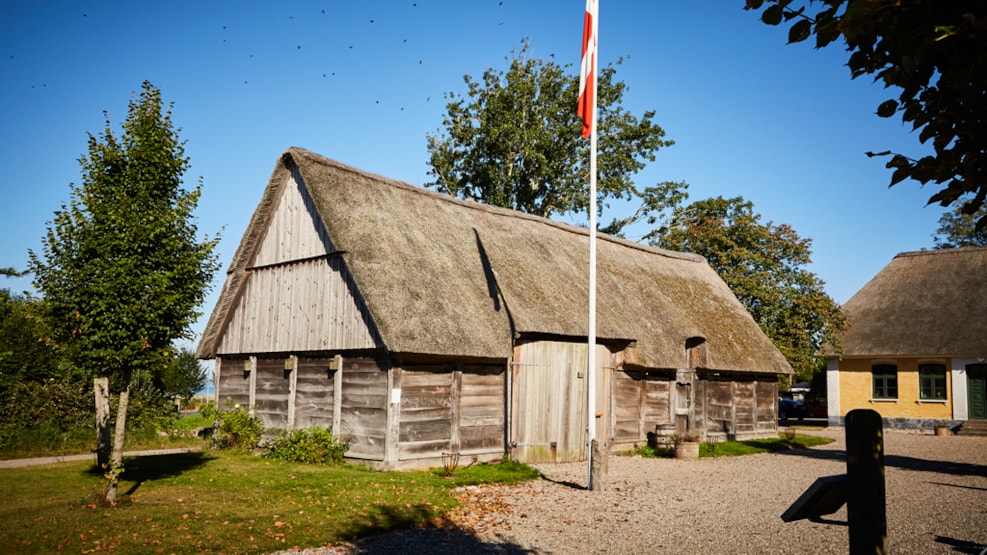 Bulladen på Aarø
Bulladen - Cultural history on Aarø
The first thing you notice when you arrive at cosy Brummers Gaard farm is the characteristic Bulladen, a 17th century plank barn. The building was moved plank by plank from a small property near Haderslev, a gift to the island from Haderslev Municipality.
Made entirely of timber, the "bulhus" (translates "plank house") technique gets its name from the very wide planks that form its sides. These are called "bulfjæle". Plank barns were built as early as about 1,000 AD. The technique certainly has medieval origins, although there is evidence that the Vikings mastered a similar technique. The technique uses timber planks as prefabricated elements. Plank barns were easy to dismantle and reassemble. Several of the few remaining plank barns have in fact been moved many times. None stands at its original location. As these structures were so easy to move, they were not considered property but rather as chattels, on a par with furniture.
"Bulhuse" were once common in Denmark. Today, only a few examples remain scattered across the eastern corner of Southern Jutland. On occasions in the past, the construction of plank buildings was prohibited because large volumes of timber were required. However, in the thickly forested region between Kolding and Aabenraa, people continued to build plank houses until the early part of the 19th century. While plank houses were legally prohibited in Denmark from the 1600s, Southern Jutland was governed by the duchies that were not subject to Danish law.
The Bulladen on Aarø is one of only a few remaining plank barns. It is still in use as a venue for many different activities.
Destination Sønderjylland
VisitSønderjylland © 2023