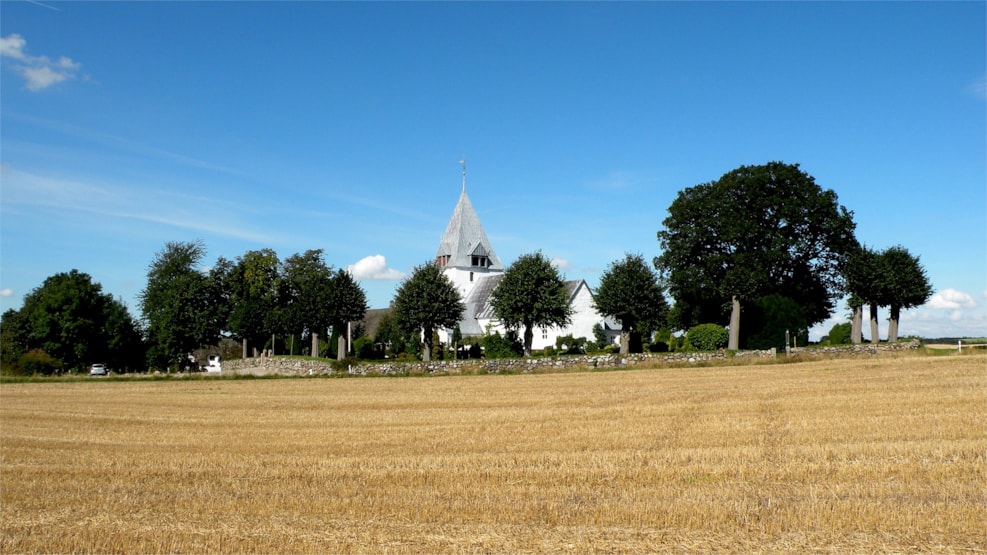 Aastrup Church
Aastrup church lies surrounded by nature between the villages Neder Aastrup and Over Aastrup. The church is a large, whitewashed Romanesque church with a lead roof, and here you will find one of the richest church ceilings in Denmark.
The church is dedicated to Saint Peter, and during the last centuries before the reformation the church belonged to the Cathedral in Haderslev and was served by priests from the staff. After the reformation, the priests were appointed by the Duke and later, after the death of Duke Hans the Elder, by the King.
If you decide to visit the church we recommend taking a peek inside, where you will se one of the richest and most beautiful coffered ceilings in Denmark, dating from 1675 and restored in 1937. The eastern part of the ceiling dates from 1675, while the smaller western part is from 1855 after a matroneum was removed.
The chairs are from 1941, and the front seats carry the initials of King Christian X and Queen Alexandrine, as they regularly visited the church and took part in the services after the reunion. The little girl, whom the King pulled up onto his horse when he first crossed the border in 1920, and would later visit often, was a foster daughter at the rectory.
Amongst other special details in the church are the candlesticks, gifted to the church in 1614. They were stolen in 1905, but where found in the ground during the excavation for a house in Haderslev in 1920. The baptismal font is also special; it was gifted to the church in 1993 and was shaped by sculptor Sigrid Lütken and molded in iron.
The church is open during the daytime Tuesday to Friday from 8am to 3pm, or by appointment with Digger Mikael Andersen at +45 21 46 68 34.
Destination Sønderjylland
VisitSønderjylland © 2023