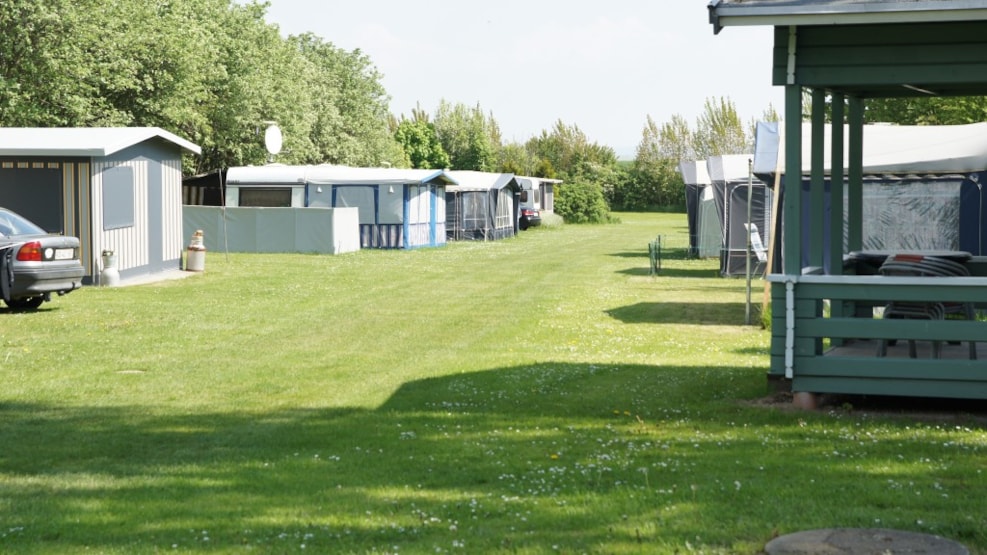 Aarø Camping
Camping holiday on the holiday island of Aarø, only 7 minutes from the mainland. It is possible to rent a cabin and on site you will find both a petting zoo, a café and a shop.
See the popular holiday island Aarø with accommodation at Aarø Camping
In the middle of the beautiful holiday island of Aarø, you can spend the night at Aarø Camping. Here it is both possible to spend the night with your own caravan, but you can also rent one of their holiday cabins. You are centrally located on the island and from there you can easily explore all the island's unique offers, activities and taste experiences.
The campsite itself is built around an older disused farm, and the old buildings form the framework of the site and set the mood. In the long one you will find the square's reception. Check-in and check-out are handled from here, and here they will also be helpful with dispatching mail and advising on possible excursion opportunities, both on the island, but also on the mainland. The campsite also has a shop where you can buy most groceries and order delicious freshly baked breakfast bread every day. In addition, they also have a café where you can buy coffee and cake, various cold drinks, draft beer and pizza.
If you do not bring your own caravan, it is also possible to rent cabins or caravans on the site. The site has 2 different types of cabins:
Type 1 includes 4 sleeping places in bunk beds and a kitchen with crockery, fridge, coffee machine, etc.

Type 2 has room for 2 adults and 2-3 children in a loft. This cabin also includes a kitchen with dishes, refrigerator, coffee maker, etc.
None of the cabins have running water, but are located close to the kitchen and bathing facilities.
In addition, the site has 2 rental caravans with room for 4 people.
Directly opposite the campsite, there is a petting zoo where you can pet alpacas, kangaroos, goats, rabbits and chickens. They all run freely in their enclosure and there open in the small zoo for 2 hours every morning and every afternoon.
Destination Sønderjylland
VisitSønderjylland © 2023